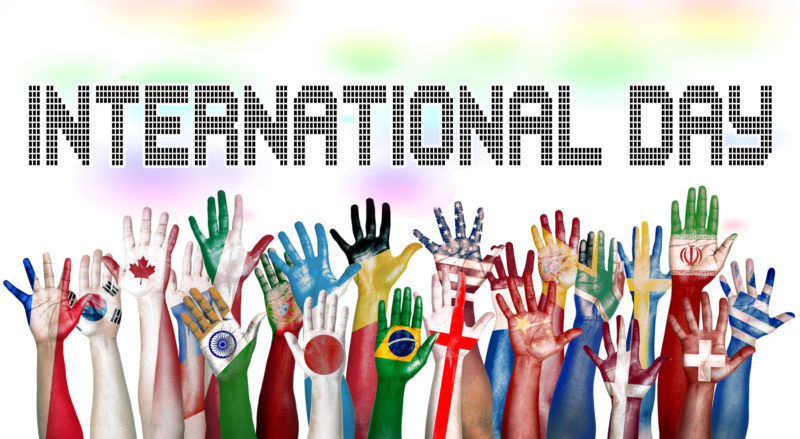 With over 2,500 students, it is no secret that Krop has one of the most diverse student bodies in the region. To embrace these differences, the Student Government Association's (SGA) PeaceJam committee hosted a special week full of music, color and dress down days.
On Monday, students were able to walk around and look at posters depicting influential women made by the Girl Up club as part of Gender Equality Day. Some of these women included Oprah Winfrey, Ruth Bader Ginsburg and Hillary Clinton. The club's goal was to highlight female accomplishments throughout history.
Sophomore Mia Diaz, vice president of the club, said that she felt fulfilled and inspired, since she believed that it is important to spread knowledge to support women's rights.
Tuesday was a day devoted to learning about the different religions that coexist in school. Our two equal access groups, Chai Club and First Priority Bible Club, represented the Jewish and Christian religions to create a Religion Inclusion day. They each had a table in the south patio during lunch and welcomed students of all backgrounds to taste traditional foods and participate in cultural activities.
The Chai Club set up a Shabbat table, showcasing a typical Jewish Friday dinner. Students had a taste of traditional challah, a ceremonial Jewish bread. They played Hebrew music such as Hava Nageela and sang different prayers.
The First Priority Bible Club distributed lollipops with Bible verses on them and hung posters for everyone to sign. The neon pink sign read "We love because He first loved us." Students went up and wrote their names and inspirational messages on the poster. They played church hymns on the loudspeakers and invited students to sing along with microphones.
The cure to wanderlust finally arrived at Krop on Wednesday in the form of an international day. Student's set up tables and shared traditional foods from their coun- tries. Before the event, students organized themselves via WhatsApp group chats to decide who would be in charge of making the posters, bringing the food and planning the different activities. At the event students represented around 20 different countries, showcasing Krop's diversity.
     "It was amazing, it felt like I was in Brazil. We danced, sang and chanted," junior Lucas Mesquita said. "We also had a little war going on with one or two countries but all in a fun way."
The Venezuelan table was full of mini arepas, cachapas (sweet corn tortillas) and cheese tequeños, and the Israel table had traditional Israeli snacks like Bissli and Bamba.
"I felt proud and honored to have represented Venezuela and to see how many people can come together just because they share a nationality,"
sophomore Celly Missrie said. "It was amazing seeing how many diverse people there are in this school and the famous types of foods from their countries."
Even people who did not participate in a table were able to walk around and taste different foods from many different cultures.
Sponsored by the Gay-Straight Alliance Club (GSA) and SGA, Thursday was a day dedicated to love. SGA created a free dress down day for all students to show their support for the LGBTQ+ community. Students wore rainbow and participated in lunch activities hosted by the GSA Club. GSA Club members painted students faces in honor of the event. Peace-sign stickers and pins were handed out and kind messages were written on a giant poster. A long rainbow paper chain was made, each chain was created by students at Krop that support the LGBTQ+ community.
"It was really nice to see so many members of the community, as well as allies, decked out in rainbow colors," sophomore Keren Yehezkely said. "During times like this, solidarity is so important and I felt so welcomed and accepted. There was a really prominent feeling of happiness."
Friday was the first of the many Black History Month events. All students were welcome to wear traditional African attire, in honor of Black History Month. The Silver Dazzlers, Dance Honor Society, chorus magnet and the drumline all performed in honor of Black History Month and gave an amazing closing to this week.