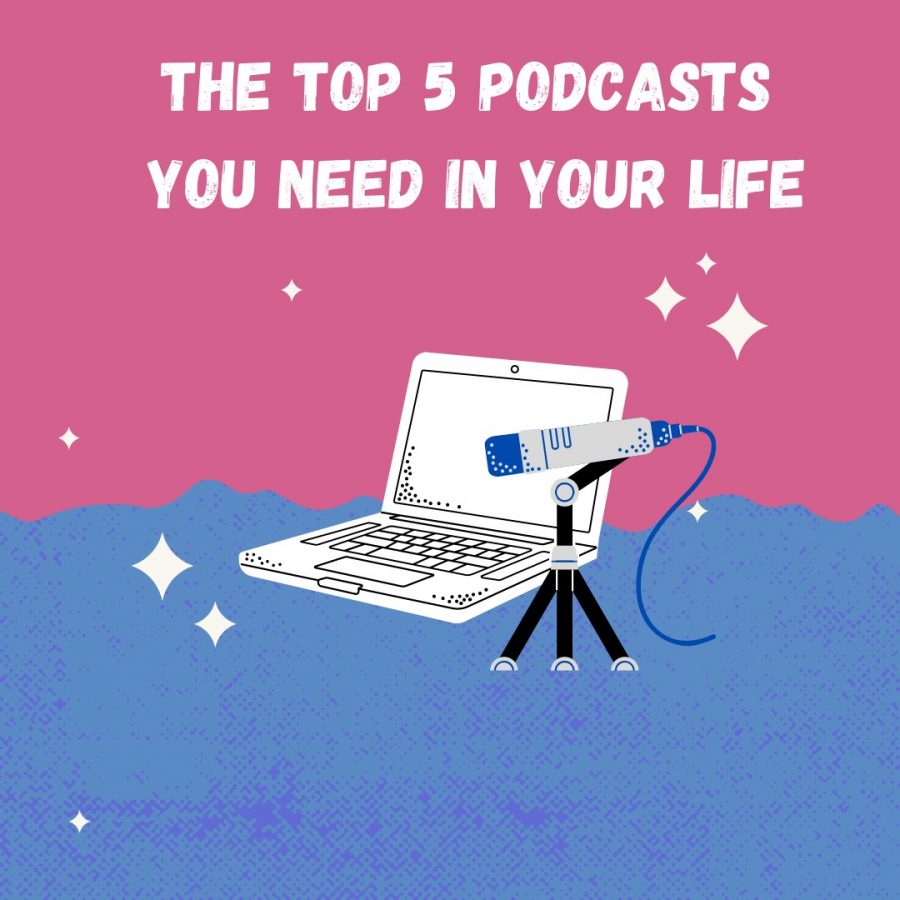 Whether it is watching the same bad movies over and over again or eating a whole tub of ice-cream by yourself, everyone has a guilty pleasure. Mine are nerdy podcasts. Here is a list of my favorite podcasts (in no particular order) to keep you company while you are on the move or just sitting alone at home. 
Secret Societies by Parcast Network
This series tells the stories of different secret societies, two episodes at a time. The podcast goes through the history, evolution and impact of all types of organizations that you were never meant to know about, covering various theories and conspiracies. The hosts admit that because these societies were meant to be kept secret, sometimes the sources are inaccurate; however, the stories of how this information leaked are often extremely interesting.   
Favorite episodes: 
Skull and Bones – This episode is all about the secret society lurking in Yale's hallways. It is kind of insane to know how real the setting and impact of this society is. Three presidents are even rumored to have been part of it. Many say that Skull and Bones was just a fraternity, but was it really?   
The Hellfire Club – The Hellfire club was a dark society known for causing public outrage that existed in England and Ireland in the 18th century. If you are a sensitive listener, this is not for you. I was doing the podcast equivalent of semi covering your eyes when you watch a horror movie.  
Barnes and Nobles Young Adult (YA) Podcast 
This one is for all my readers. The famous bookstore now has a podcast featuring many famous YA writers. The interviews are always in-depth and interesting, giving writers enough room to talk about their latest book and the writing process. Many of the episodes even include heart-warming childhood stories. You can tell it's a podcast for readers made by readers. 
Favorite episodes: 
Neal Shusterman – I might be biased because I love his "Scythe" series, but it's truly an amazing episode about his journey as a writer and the thought process behind his famous Arc of a Scythe series.  
Becky Albertalli and Adam Silvera – At the time this episode aired, their new book, "What If It's Us," had just been released. The novel is full of geeky references to Harry Potter and the Broadway show "Dear Evan Hansen," so it was spectacular seeing the two authors dissect all of them in-depth. This episode sounds like you're just listening to a conversation between two friends.
Angie Thomas – Nothing I can write will do justice to this woman or this episode. From police brutality to censorship and hip-hop, this episode touches on many important topics and issues. It will give you chills from beginning to end. 
TedTalks Daily (poetry edition) 
All the famous TedTalks you know and love are available to listen to in podcast form. There are so many topics to choose from, but two of my favorites happen to be poetry, and trust me, you do not have to be a poetry reader or writer to enjoy these talks. 
Poetry in maximum-security prison by Phil Kaye – I cried during this episode. The podcast features poet Phil Kaye telling his story about teaching poetry to inmates. His journey of teaching others about poetry is nothing short of inspiring. The talk is only 20 minutes but by the time it's over, it will feel like you just watched an entire movie. 
If I should have a daughter by Sarah Kay – I also cried in this one. Sarah Kay is an extremely talented spoken word poet who talks about how the art of performing poetry has changed her life and those of others.   
Very Presidential with Ashley Flowers 
I never imagined I would laugh this hard with a History podcast. Ashley Flowers tells you everything your American History textbooks left out about our past presidents. I was constantly mind-blown with each new secret revealed, and I'll never look at some of these presidents the same way ever again. 
Favorite episodes: 
Woodrow Wilson: The Polarizing One – Just a fair spoiler alert, this man was not the World War I hero and creator of the League of Nations he is often thought to be. He was also a Neo-Nazi sympathizer. 
Warren G. Harding – If you are not a History geek, odds are you've never heard of this man before. I was cleaning my room and had to fully stop and rewind the podcast because I was thinking, "There is no way this actually happened." It is a must-listen. 
John F. Kennedy: The Playboy – I was just sitting there like "Tea! Tea! Tea!" and that summarizes it pretty well.     
Famous Fates – Movers and Shakers
This podcast is a work of art, and it almost reminds me of Greek and Shakespearean tragedies.  It's all about famous people who lived great lives that ended in tragedy. The episodes are also told with a full cast and have dialogue weaved in, so it truly feels like watching a movie. Even if you know that all these stories are not going to have a happy ending, you are still intrigued by how and why they happen. 
Favorite episodes: 
Oscar Wilde – This episode is beyond moving. Oscar Wilde was a famous Irish poet and playwright, and his demise is tragic and unfair.   
Leon Trotsky – I honestly did not know much about Trotsky other than that he was an enemy of Joseph Stalin. This episode reveals a lot about his personal life that often goes ignored in more traditional tales of the story.  
Aaron Burr – Yes I'm also a "Hamilton" fan, but this episode goes into so much more detail than what was discussed in the show since it depicts how Burr deals with his newfound reputation of being Hamilton's killer.