Professional athletes react to election results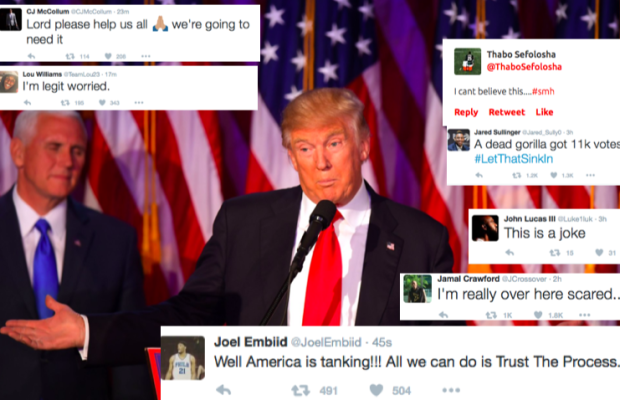 Alexis Sanford
December 1, 2016
Donald Trump, the Republican Presidential nominee, won the presidential election Tuesday November 8th and athletes took to social media to voice their opinions.
Trump was endorsed by sports figures such as golf legend Jack Nicklaus, ex-Red Sox pitcher Curt Schilling, New England Patriots coach Bill Belichick, former Indiana basketball coach Bobby Knight, ex-Red Sox pitcher Curt Schilling, former New York Yankees outfielder Paul O'Neill and many others.
Here are athletes reactions to Trump's win:
Dang OBAMA should've redshirted ?
—Chris Lammons (@Lammons_1) South Carolina Cornerback
Regardless of the presidential election result, no problems will change without self reflection. #CreateTheChangeWeWant
— Braylon Edwards (@OfficialBraylon) played wide reciever for the Clevelad Browns and New York Jets
I just pray he figures it out. Please. Just do right by the country.
— Iman Shumpurt (@imanshumpert)  Basketball player for the Cleveland Cavaliers
What a crazy night! I look foward to @realDonaldTrump #MakeAmericaGreatAgain! Don't we want America to be great again?! Stay positive Merica!
— Danica Patrick (@DanicaPartick) professional stock car racer
No matter who the president is, we all still have the choice every day to be positive, respectful, and to spread love to one another.
— Evan Turner (@thekidet) Basketball player for the Portland Trail Blazers
Jesus take the lead <3
— Sasha Banks (@SashaBanksWWE) professional wrestler for WWE
Horrible nightmare last night. It was so weird, I was in Germany but the U.S. was Germany now? But from like 80 years ago? So weird? Scary.
—Sami Zayn (@iLikeSamiZayn) professional wrestler for WWE
Really America?
— Ricky Rubio (@RickyRubio9) Spanish professional basketball player for the Minnesota Timberwolves
Last thing i will say… LETS GIVE HIM A CHANCE TO PROVE US "non believers" WRONG. #WeMustComeTogether#DivisionIsNotTheAnswer
— Garrett Temple (@GTemp14) professional basketball player for the Sacramento Kings
Woke up only to be disappointed this morning! Nothing surprises me nowadays….
— Theo Riddick (@Riddick6) Running back for Detroit Lions