Being Caught Doesn't Come Cheap: ID and Uniform Changes
Your alarm goes off and you slip into your favorite pair of ripped jeans and slip right into your most comfortable pair of slides. You hop on the bus to school ready to start the school day with no issues, well not this year.
Krop cracked down on its uniform and tardy policy and will not let students slip past the rules. There have been various changes concerning the uniforms and student IDs, but why?
Over the summer, Krop's administration came together to discuss new policies for uniform and student IDs. For instance, keeping last year's ID cards. However, a new picture can be taken in the CSI room for $5.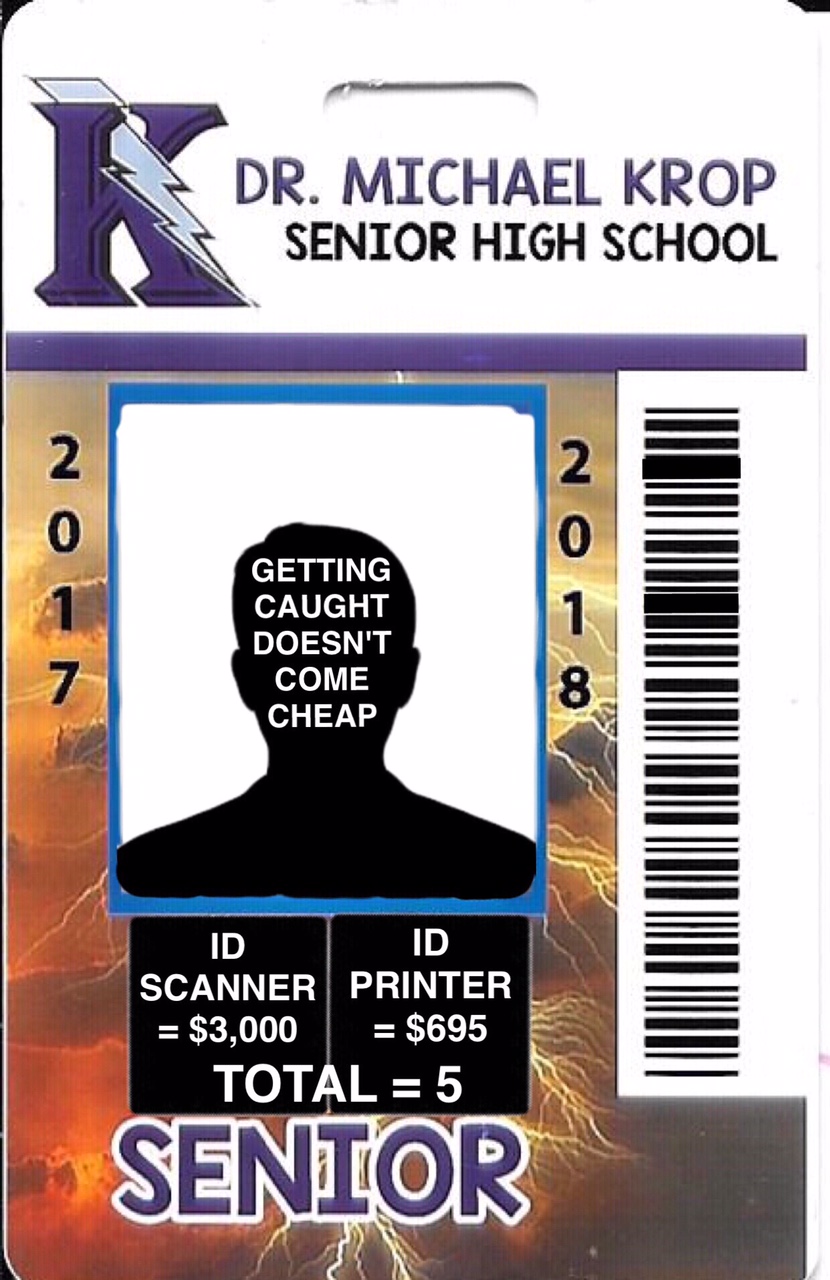 In terms of new uniform rules, there are pros and cons. This year, students are allowed to wear plain colored hoodies in the colors: black, grey, white, and purple. The outerwear doesn't need to have a Krop logo, as long as the student wears a Krop uniform shirt underneath. The other option is opposite, students can wear Krop outerwear and a black, grey, white or purple plain shirt underneath. A welcome change is now athletes and club members can wear their sport or club shirt any day of the week, not just Friday.
But with the good, there's some bad. This year administration banned the use of opened toed shoes. Slides, Crocs, and any footwear exposing your toes and-or your heel is not allowed. This ban on opened toed shoes is for safety and the lack formalness that opened toed shoes carry.
And beware: a new tool to crack down on dress code and tardies are "pocket scanners." Through a two piece device, administrators scan students IDs and give students violations on the spot. There is a handheld scanner and a violation printer that attaches to the APs belt. Five scanners and printers were funded by all ID obligations from the previous school year. Being caught doesn't come cheap, each scanner is $3,000 and the printer is $695.
Assistant principal, Humberto Brito was the first person to put the trackers into action. Students were astonished at the ease of giving violations. This is only the beginning, according to Brito teachers and all staff will be able to use this application next school year.
"The new pocket scanners will help save time from students coming down from their classes to get a violation," CSI Instructor Jacqueline Torano said.
Leave a Comment